WHEN WE RELY ON FOREIGN MADE
MADE BIO-DEFENSE PRODUCTS WE PUT AMERICANS AT RISK

2020 - China financed 67,000 new PPE producers and distributors.
U.S. imports 85% of masks from China & ironically 98.9% of U.S. flags.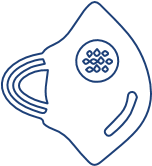 Up to 70% of imported respirators found defective by the CDC.
Two thirds of U.S. front-line workers experienced PPE shortages during the COVID-19 pandemic. March, 2020 - 54 governments including China imposed restrictions on exports of masks to the U.S. - even those made by U.S. companies such as 3M.
To ensure stable onshore production, the U.S. imposes a 163.8% tariff on imports of unshelled peanuts. We believe that our need for protection against Bio-threats is at least as important!
The FDA & CDC must work together with new U.S. companies to cut red tape and partner in facilitating quality production.
Federal Purchasing Mandates
A Federal mandate to tie federal funding to purchase of Made in the USA Bio-defense products.
Emergency EB-5 designation for the Bio-defense industry and SBA loans for new production lines.